Empower your students to thrive now and in the future.
Students expect higher education to help them build the lives they want to live. CliftonStrengths for Students boosts engagement and connection -- and the Premium platform helps leaders and educators deliver these positive outcomes to more students.
Create a thriving community where everyone knows what they do best.
CliftonStrengths for Students Premium is a scalable platform for students and educators to use in a university or school system setting.
Powered by the CliftonStrengths assessment, the Premium platform gives students easy access to their individualized report, action items and resources for how to be at their best. It includes interactive tools to connect with peers and educators along the journey.
The Premium platform allows leaders and administrators to manage the logistics without losing momentum, featuring:
easy onboarding and distribution through their school-issued email address
enhanced individual, team and platform reporting
multi-level administrative roles to simplify collaboration and delegation
flexible billing options after assessment completion (with an option to turn off and on for new users)
Strong communities are built on a foundation of what's right with people -- no matter what kind of normal comes next.
Premium is only part of Gallup's approach to education partnerships. We also equip institutions with expert advice and transformative learning tailored to fit their university, campus or school system.
CliftonStrengths for Students Premium is a community solution, wherever that community is.
Whether you're looking for an on-campus solution or to enhance connections for remote learners, CliftonStrengths for Students Premium provides a user-friendly way to scale your strategy across your learning community (with a minimum requirement of 700 users).
Connect with an expert to learn more.
Premium offers strengths resources, e-learning for students and educators, and features administrators will love.
Onboard With Ease
Premium users receive a customized URL for their institution that students, faculty and staff can use to complete the CliftonStrengths assessment (no code required). Administrators can monitor use, turn the assessment on and off, and send reminder emails to prompt people to complete the assessment.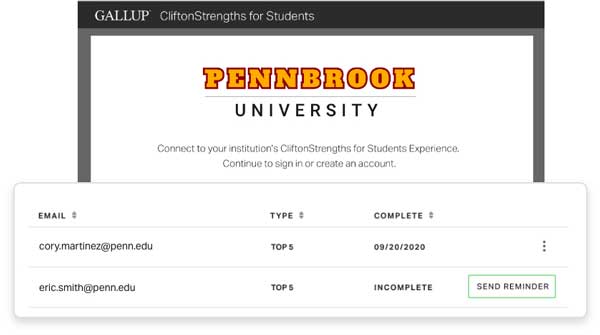 Develop Strengths
Use the Resources section for self-guided e-learning, student-specific action items, and other resources to guide students and faculty and staff on how to use their unique talents to achieve their goals in and out of the classroom.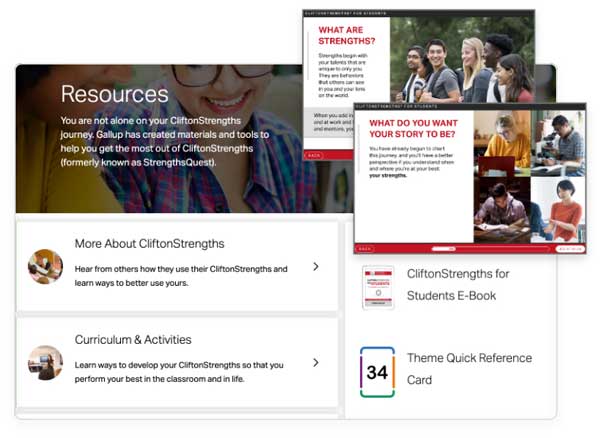 Empower Admins
Premium admins can assign faculty/staff or administrative privileges to other users who need elevated permissions to get the most from the platform.
Get Reports
Want to print a team strengths grid or bulk export strengths reports and data? Premium makes it easier than ever to get the information you need as quickly as you need it.
Create Groups
Build groups and assign role permissions so that faculty, staff and students can connect and know each other's strengths. Owner and delegate roles allow for flexible accessibility -- allowing faculty and staff to take ownership of using strengths in their programs, classrooms and activities.
Partner with Gallup to create a thriving campus.
Fill out the form below to connect with a Gallup expert to learn more.