It's Time to Transform Your Campus.
Gallup offers CliftonStrengths solutions for every kind of school, campus, department or team.
From full campus-wide implementation to targeted departmental efforts, we can craft the right solution for you.
Buy & Administer StrengthsQuest® for Your Group.
Students, staff and faculty can't thrive without first discovering what they naturally do best. You can bring the power of strengths discovery to your school in two ways:
For Groups or Departments
Purchase StrengthsQuest access codes from shop.gallup.com. You will receive your access codes via email, for distributing as you see fit. And you can unlock other online administration options to suit your needs.
$9.99 each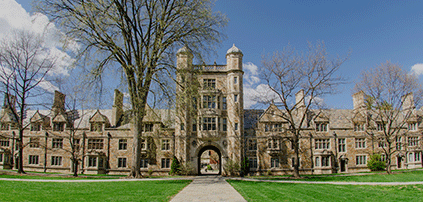 For Your Entire Campus
Gallup offers schools a premium, campus-wide solution for bringing the power of CliftonStrengths development to all students, faculty and staff.
Starting at $9.99 per student (500 student minimum)
For accessibility questions and more details about the CliftonStrengths assessment, visit the Help Center.
To Get the Most From Their CliftonStrengths™, Students Need Great Coaches.
Discovering their CliftonStrengths is just the start for your students.
They need help developing their talents into strengths.
They need to connect with experts who can help them apply their strengths to lead their best lives.
They need coaches. Because everybody needs a coach.
Submit the form below to learn how we can train Gallup-Certified Strengths Coaches for your school.
"Strengths develop best in response to another human being."
- Don Clifton
1924-2003
Create the Right Learning Path for Your Campus
From public courses to on-site options, we offer customized solutions for your school. To learn more about strengths coaching curriculum for educators, including special pricing available to employees of credentialed institutions of education, please complete the form below. A Gallup expert will contact you.
Unlock the Power of Your Strengths.
Buy Online Access Only
Don Clifton and Chip Anderson wrote StrengthsQuest to help students apply their strengths to achieve success in academics, career and life.
Like the online access only option, each copy of StrengthsQuest includes a unique code to complete the CliftonStrengths assessment and discover your top five themes of talent.
Both options provide you with access to materials to help you explore how to use your talents to thrive.
$9.99 each
Buy at shop.gallup.com